Thanks to Ben Mast and his Eagle Scout Project, fishing around Valdese Lakeside Park is going to be better.
Chris Wood, Fisheries Biologist with NCWRC, was the speaker at Catawba River Wildlife Coalition's first meeting in November 2018.  His topic was "How NCWRC Manages Fish, Aquatic Animals & Water Access" and he mentioned a great project for the group would be fish attractors (a man made habitat for fish).
When Ben Mast attended CRWC's second meeting and asked about working together on a project – talk of fish attractors was first on the list.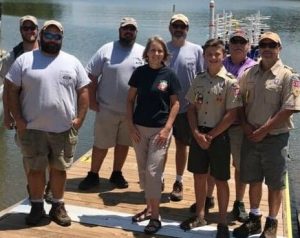 Many people and organizations were involved with the project. Ben designed and built 8 fish attractors with the help of fellow his scouts. CRWC and Friends of the Valdese Rec provided the funding for the materials. Chris Wood and NCWRC provided the guidance of where the attractors would be placed and managed the deployment. Ben is with Scout Troop 202 in Valdese under the leadership of David Hathcock.